Hey ^^

If you found this page then good job (I won't ask how)
---------
STATUS
Art trades- Open!
Requests- Closed
Commissions- Open!
---------
Hi! I'm Kuro (yes i know my username says AOIumbreon. i'll probably change that when i get core membership. really, i go by kuro. my oc aoi is forever aoi though >w<); an average otaku. I love all genres of anime (but Hentai) and dream of becoming a mangaka someday. I've seen that it's really hard for a non-Japanese person to create a successful manga, which in my opinion, is really unfair. I don't see why people are so picky about where it originates from- I love both! Most people call it 'fake' manga, which again, is completely unfair. It shouldn't matter where something originates from- as long as it's enjoyable!

Not only that- but being a mangaka in total is hard. I've heard that they work really hard, and don't sleep that much every day. That's why I really look up to them- and why they should all get credited for their hard work. Even if I have to endure that- I still dream of becoming a mangaka.
---------
Languages:
English- Native
Chinese- Fluent X
French- Fluent
Japanese- Intermediate
Spanish- Beginner
----------------------------------------------
-MY ULTIMATE WEAPON IS A CAMERA-


----------------------------------------------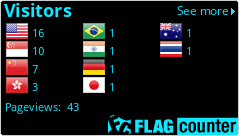 Thanks >w<


dA Family:



-Sister


-Sensei


Sensei and best Hetalian friend ever


-Sensei


-First friend


-Brazillian Brother in Law


-Amazing friend


-Brother


-Hetalian friend of awesomeness


-The one I share my pain with

What I'm working on:
fav.me/db23l48

----------------IF YOU ARE THINKING ABOUT COMMISSIONING SOMETHING--------------------
No innapropriate stuff; this includes nude people and things that aren't meant to be shown

-I will not include ANY swear words

-Please note that I have the right to decline doing the commission

COMMISSIONS JOURNAL:


Commissions!So I've decided to start commissions again. There are reasons, but that would mean a rant :3
Please note that I am constantly improving, and that I will try my best to draw hands <3
------
Status:


------
A ninja's ultimate weapon is a camera. Aoi's is anyway.
So to get work done, Aoi has decided to take pictures. Of certain things (nope, not that stuff) and people. Don't worry, with their permission of course. Plus, Aoi is no stalker. ...Unless she must.
So this started.
------

: COMMISSION RULES :

-No nude people. Or anything that should not be shown. I don't draw that stuff.
-Please note me if you are interested in commissioning
-If you will use my art for something, please credit me.

: THINGS YOU SHOULD KNOW :